About us
Aktualizacja: 30 sierpnia 2019
Lodz University of Technology Academic Choir (Lodz, Poland) was originally an all male choir founded by Electrical Engineering students in 1968, based on choir existing at TUL intermittently since 1951. Nowadays it is a four-part mixed choir made up of undergraduates and graduates of Lodz universities, mainly of the Lodz University of Technology. During over the 50 years of its existence the choir has participated in numerous festivals and choral music contests in Poland and abroad. The past ten years have been very fruitful and full of artistic achievement. In 1995 the choir took part in Eurotreff Musik workshop in Bühl-Baden (Germany). In 1996 the choir entered, for the second time International Choral Contest in Riva del Garda (Italy) and won the silver and the bronze medal for its performances of secular and sacred music. In October the same year the choristers participated in a workshop in Wetzlar, Germany, devoted to Michael Tippet's oratorio "A Child of Our Time", which was later performed at three concerts in Giessen, Wetzlar and Bad-Neuheim with Sing Academie Watterau. In May 1997 the choir participated in Schubert Festival in Vienna, one of the largest choral events in Europe, commemorating 200th anniversary of the birth of the composer. In May 1998 the choir performed Paul McCartney's "Liverpool Oratorio" at 1st International Choral Festival in Szczecin (Poland) and only a few months later choir toured in Norway, invited by SkeiVasskoret Choir. In November the choir entered Festival of Polish Choral Music in Katowice. In 1999 the Technical University Choir was one of the best choirs at the Choral Festival in Usti (the Czech Republic). The year 2002 was particularly busy and successful. It began with Tonen Choral Festival in Monster in Holland, followed with International Sacred Music Festival in Rumia in Poland (the third prize) and Cantio Lodziensis Festival in Lodz (the first prize). The choir's jubilee year 2003 commenced with a tour of France, Germany and Italy and participation in International Choral Workshop in Ariege Region (France). In November the choir was acknowledged as the second best academic choir at Cantio Lodziensis and honoured for the best performance of a Lodz composer. 2004 was devoted solely to developing contacts with Ukraine. The choir hosted a folk chorus from Lvov and afterwards toured twice in Ukraine. The year 2007 began with International Choral Competition in Bydgoszcz (silver diploma) and received a recognition of City of Bydgoszcz Office of International Affairs.
In recent years Academic Choir of Lodz University of Technology performs during professionally held concerts alongside world famous musicians. In 2012 the choir accompanied Andrea Bocelli during his concert in Atlas Arena, Łódź for the audience of 9000. Moreover, the choir sings annually at the Night of the Proms concerts, also held in Atlas Arena, as a first non-Belgian choir to regularly participate in the series. In three editions of the concert (2014-2016) the choir appeared onstage with pop artists such as Amy MacDonald, Orchestral Manouvers in the Dark, Coolio, Katie Melua, Kim Wilde, John Miles, Simple Minds, Lisa Stansfield and Zucchero. In 2017 the choir is scheduled to perform two Night of the Proms concerts: in Łódź and in Warsaw (Torwar Hall). During the Night of the Proms concerts the choir also performed choral and operatic pieces by C. Orff, W.A. Mozart and G. Verdi to an acclaim of audiences and press critics alike. Academic Choir of Lodz University of Technology also performs with various orchestras on a regular basis. In 2006, together with Fachhochschule Ulm Orchestra (Germany), Academic Choir of Lublin University of Technology (Poland) and three other choirs the Academic Choir of Lodz University of Technology toured Poland and Germany with Liverpool Oratorio by Paul McCartney. Since then, the choir also performed Te Deum by A. Dvořák (2007), J. Haydn (2009) and G. Bizet (2011), Magnificat by J. Rutter (2008) and Three Russian Songs by S. Rachmaninoff (2016). In its' recent history the choir also competed in a multitude of choral festivals in Poland and Europe. The most important accolades obtained by the choir in the recent years are:
27th International Festival of Advent and Christmas Music, Prague, Czech Republic (2007) – Gold Diploma
Advent & Christmas Songs Festival, Budapest, Hungary (2010) – 1st Prize
23rd Sligo International Choral Festival, Ireland (2011) – 1st Prize in pop music category and Grand Prix awarded for the best choir of the festival
2nd Freamunde International Choral Festival, Portugal (2012) – Silver Diploma in sacred music category
3rd Cracow Advent & Christmas Choir Festival, Poland (2012) – Silver Diploma
10th Polish Christmas Carols and Songs Festival, Chełmno, Poland (2015) – Gold Diploma
4th International Gdansk Choir Festival, Poland (2015) – Silver Diploma
International Festival of Contemporary Choral Music "Canti Veris Praga", Prague, Czech Republic (2016) – Gold Diploma
4th Rzeszów Carols and Christmas Songs Festival, Poland (2017) – First Prize
1st Mikołaj Zieleński Choir Festival, Łowicz, Polska (2017) – Gold Diploma
13th Polish Christmas Carols and Songs Festival, Chełmno, Poland (2018) – Gold Diploma
Ohrid Choir Festival, Macedonia (2019) – 2nd Prize
The choir is also qualified for 34th International Music Festival in Cantonigros near Barcelona in July 2016. The festival is ranked amongst the most prestigious choral festivals held in Europe, as evidenced by its' rich history spanning more than three decades. Moreover, the choir recorded concerts and performances for radio (2012) and television (also 2012). In 2014 and 2015 the choir starred in movies Gigant (Giant) directed by Tomasz Jeziorski and Past Life (to be released) directed by world renowned Israeli director Avi Nesher.
Throughout its' history the choir also recorded the following CD's:
Akademicki Chór Politechniki Łódzkiej (1997) – sacred, secular and folk repertoire
Z nostalgią i humorem (With Nostalgia and Humour) (2008, 2nd print: 2015) – pop and jazz standards
W Świątecznym, zimowym nastroju (In Christmas, Wintry Mood) (2014) – Christmas songs and traditional carols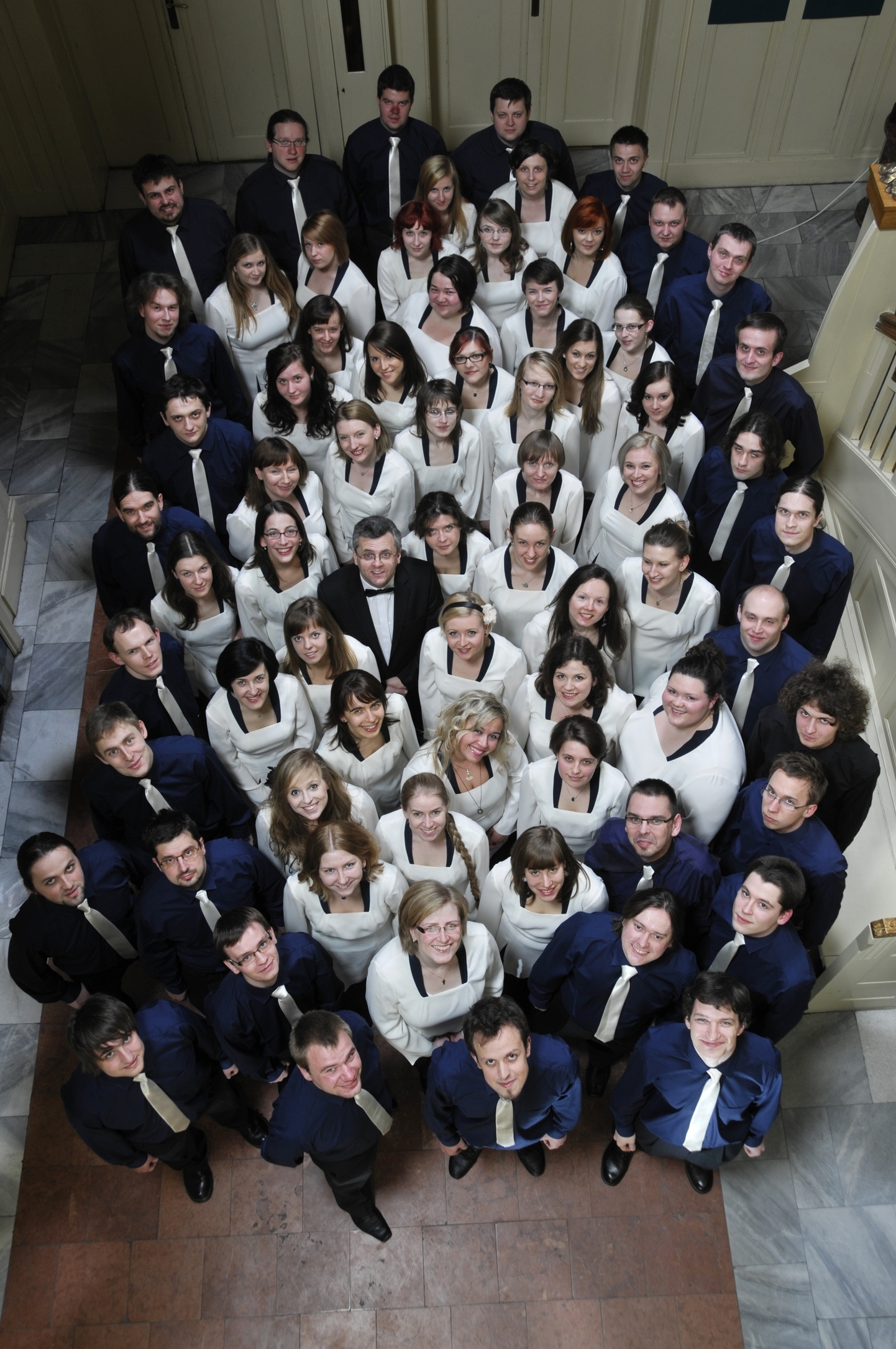 ---
The conductor of the choir is Jerzy Rachubiński. He studied Music and Conducting at Lodz Academy of Mu-
sic with Professor Tadeusz Błaszczyk and Voice at the Bydgoszcz Academy of Music with Professor Jadwiga Gałęska-Tritt. He has conducted several choirs since he graduated in 1990, Lodz University of Technology Academic Choir and Harmonia Choir being the most successful ones. With these two choirs he has given concerts and won prizes in Italy, Germany, Austria, Norway, England and the Czech Republic. Jerzy Rachu-
biński teaches conducting at Lodz Academy of Music from which he holds a doctoral degree. He also conducts at the High School of Music and he himself used to sing in the professional choir of The Lodz Philharmonic in years 1990-2003. He is an expert of "a cappella" singing. He has also performed large scale choral works with orchestras and soloists.
He has recorded a CD's of choral music and has performed on local radio and TV.
---
Conductor's assistant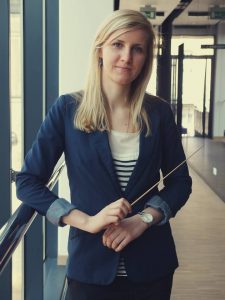 Magdalena Kościuszko – a graduate of the Academy of Music in Lodz, who specialized in Conducting Choirs and Orchestras, but also a pianist and a teacher. Since 2017, she is working as the assistant to the Lodz University of Technology Academic Choir 's conductor. In 2017, she conducted the choir during the Mikołaj Żeleński's National Choir Music Festival in Lowicz, for which the choir was awarded with a Golden Diploma. Together with our Conductor, she prepared the choir for the concert commemorating the choir's 50 years of continuous activity and conducted the main event.
In 2018, she performed along with AChPŁ in Lodz and its region, and top of that, she prepared for and conducted the Choir during International choir and orchestra festival in Baden-Baden (Germany).
---
If you want send to us some piece of information or question please don't hesitate and write to:
Lodz University of Technology Academic Choir
e-mail: chor@chor.p.lodz.pl
tel.: (+48) 793 763 656